CVS10
This version contains a cellular module, installed on the most popular version, the CVS-9:
This system comprises three main components:
The external unit – this unit is installed on the rolling trolley and moves with it along the jib. The unit contains a high-resolution video camera, which is directed downwards to centre the image around the hook, so that the operator only has to control the zoom. The images from the camera are processed and transmitted wirelessly to the operating cabin, where it is displayed on an advanced LCD screen. The external unit is fed by independent voltage from a solar system and does not require an external electric supply.
The internal unit – this unit is installed inside the operating cabin. The unit includes an LCD screen, a receiver and a command pedal which together receive the image transmitted from the external unit and display it on the screen. The screen has a high resolution and is adapted to difficult conditions. The operator can control and navigate the image by moving the trolley and zoom in and out using the designated zoom pedal.
Cellular module (CVS-10) –
• Remote viewing from the crane camera on a smartphone or a computer
• Video recording onto a memory card (up to 20 days' recording).
• Optional audio in/out
• Built-in GPS location capability.
• Multiple users/viewers – no limitation on the number of simultaneous viewers.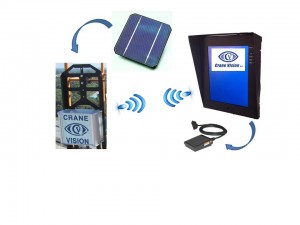 Key features:
• Cellular module for remote viewing
• Recording
• Night time vision
• Sony camera
• Optic zoom up to x26
• Wireless video transmission up to 200 metres
• 4 broadcast channels
• Stabilization system
• Dust- and water-tight camera
• Advanced LCD screen.